I. found. the. cutest. wallpaper.
It's from Anthropologie and it's crazy expensive ($548!) but it's a lot cheaper than getting a real mural done.  And I absolutely love the garden design.
Yes, it's feminine, but it's not uber-girly.  And since we didn't find out Evie's gender before she was born and decorated the nursery in a gender-neutral style, I want to decorate something kind of feminine, darn it!
Check out all these examples of the wallpaper in use.
So anyway, it arrived in the mail, and I decided to pull one of the colors from the wallpaper to paint the bottom of the clawfoot tub we're getting (AHHH!) and the Kohler Brockway sink (DOUBLE AHHHH!).  I'm going for a whimsical, childish bathroom with classic fixtures– and picking out a color was a challenge.  My friend Jenny helped me at the paint store by going through paint swatch after paint swatch and holding them up to the wallpaper– and we ultimately decided on Parisian Red, by Benjamin Moore: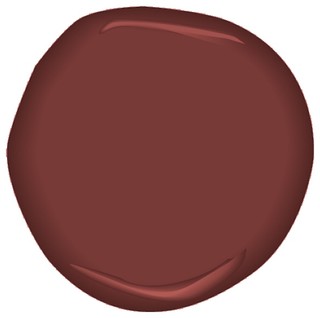 It picks up on the red flowers that accent the wallpaper, and I love how it's serious (it's a dark color) but unusually playful (who paints their tub and sink red?!).  PLUS– Evie is a nickname for Genevieve, who is the patron saint of Paris, so it's a fitting paint name for her bathroom.  🙂