In researching how others have designed farmhouse-style kitchens, I've noticed I really love the look of old hinges and pulls on cabinet doors.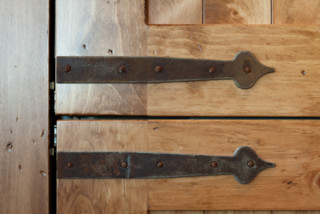 This is the kitchen of the first house for sale we saw in Charlottesville– I loved the vibes given off from the exposed hinges and drawer pulls.
So when it came time to choose what kind of "accessories" to adorn our cabinets with, I knew how much I liked the look.  My grandparents' farmhouse in the Shenandoah Valley (built in 1792) has a lot of exposed hinges on doors and so it kind of feels like home to me to see them.  Some people eat mac and cheese to feel cosy and at home… apparently I need hinges and pulls.
They're only $4.39 a piece and are hand forged, which I thought was pretty cool.  It seems very colonial and perfect for a pre-Civil War farmhouse.
After a bit more online shopping, I found the
perfect hinges
to go with them:
Again, these seem to have that same cosy but also historically accurate vibe that I love so much.  They were only $3.53 a pair– quite reasonable indeed!
To match the hammered metal look of the pulls and hinges, I dropped by Lowe's and got
these knobs
for less than a dollar each… that's my kind of pricing!
The last piece of the puzzle was a door handle for the pantry door.  This presented quite a challenge.  I wanted to make sure the door would close and open easily but I wanted something that was different; I wanted to add some character.  For this we actually left the kitchen aisle at Lowe's and strolled down the gate hardware aisle.  We found
this simple latch
that was perfect!
The hinges and the pulls arrived in the mail, so David got to use his super cool drill and install them.  (Note: if you're ever installing your own pulls– make sure you measure once, twice, and maybe even three times before you start drilling!)
He did a great job, though.  Above you can see him drilling the holes for one of the drawers, and below he's installing the gat latch into our pantry door.
Stay tuned to see how the whole kitchen wraps up– accessories and all!  We're SO close!