Where the Master Bedroom Started: A Quick Tour
When David and I first walked through what is now our farmhouse when it was on the market, I wasn't so sure this was "the one" until we stepped into this bedroom. The picture window faces the back yard. At the time, there were about 30 trees– big trees, some of which were growing out of the pool area— but peeking out behind them I could see the tip of the Blue Ridge mountains. When I learned the acreage of the house went pretty far back in the yard and we would be able to cut those trees down, I practically started hyperventilating. I love mountains and the thought of seeing them from the master bedroom seemed too good to be true.
We put an offer on the house right away. Before we even moved in, I started stripping the wallpaper and plastic chair rail off of the master bedroom walls. By the time we settled in, there was nothing on the walls other than scraps of wallpaper my fingernails couldn't get off easily.
When you purchase links through our site, we may earn an affiliate commission.
Friends & Family to the Rescue!
…and then, we got distracted with the other million projects to do. And then I became pregnant with our first baby. The next thing we knew, I was very pregnant and unable to do any house projects. My dear friend (who ended up being Wilson's godmother a few years later!) came to visit and in one day, she primed all the walls in this room. It was so exciting. (Note: if you ever want to make a pregnant friend of yours feel really really loved, all you have to do is visit her and paint her bedroom.)
My aunts came over one day to help me pick out a paint color that made me feel warm and happy in this space. Originally I wanted a light blue, but after trying a sample up on the wall it made me feel cold and reminded me of our first winter in the house when we couldn't really afford to adequately heat the house (we hadn't insulated any of the crawlspace or attic yet or even put up storm windows, and it was miserable!). So we decided on a pale pinky-beige that matched the color of the sunset we can see from our bedroom window as it sets over the Blue Ridge mountains. My aunts surprised me by painting the entire room for me while I was at work one day.
Wall color: Benjamin Moore Heirloom  (which the site describes as "An incandescent shade of peach with gentle pink undertones")… I would definitely say it's pink with maybe some peachy undertones. Definitely, definitely not peach in the light we have although photos may not do it justice.
We lived with the room having lots of navy blue accents to try to "masculinize" it, and for a while we were happy with how it looked… but I started getting sick of the big contrast of the dark blue and light pink.
4 Kids = Going for a King Sized Bed
Once the twins were born, we decided to spring for a king sized mattress from our local mattress shop. I wish we'd gone for a king YEARS ago. It's just all around more comfortable when you have multiple kids cuddling with you! We needed new bed linens with a new size, so I took the opportunity to change up the decor a bit.
We got an amazing four poster bed online, sight unseen. Ballsy move I know, but I couldn't love it more! We got lucky. We found the Beverly King Bed from Macys.com (although I think you can find it elsewhere online for much higher prices). It feels elegant and like it could be an antique. The wood is sturdy; I love the dark stain. It's the first "grown up" piece of furniture David and I have purchased that we could pass on to our kids one day. I think it is a fabulous price for such a good quality bed!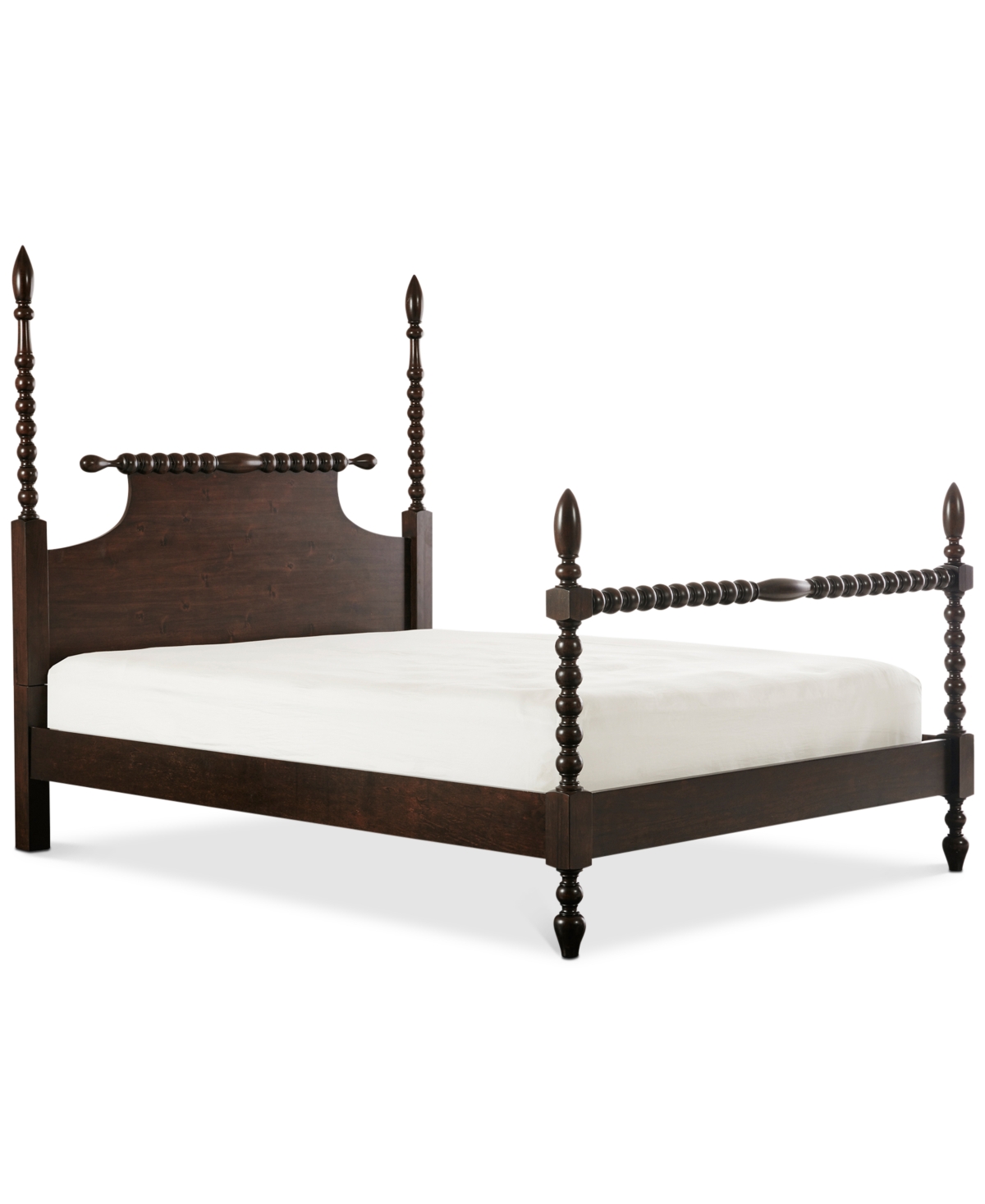 What we did to soften our bedroom decor:
I decided to keep the pink paint as a neutral background color and focused on white and beige accents. The dark wood of the bed feels like a big enough contrast to pink/ white/ beige. I didn't feel the need to introduce any other big colors. I did keep our 2 European pillow shams from the old bedding that are beige and navy blue striped. The navy blue is subtle… my eye goes toward the beige. And they're usually covered up by more pillows so it's truly just a hint of color in the background.
1. Chenille Cover: also from Macys.com, also sight unseen, I ordered a chenille bedspread like I remember all the beds being at my grandparents' farmhouse when I was growing up.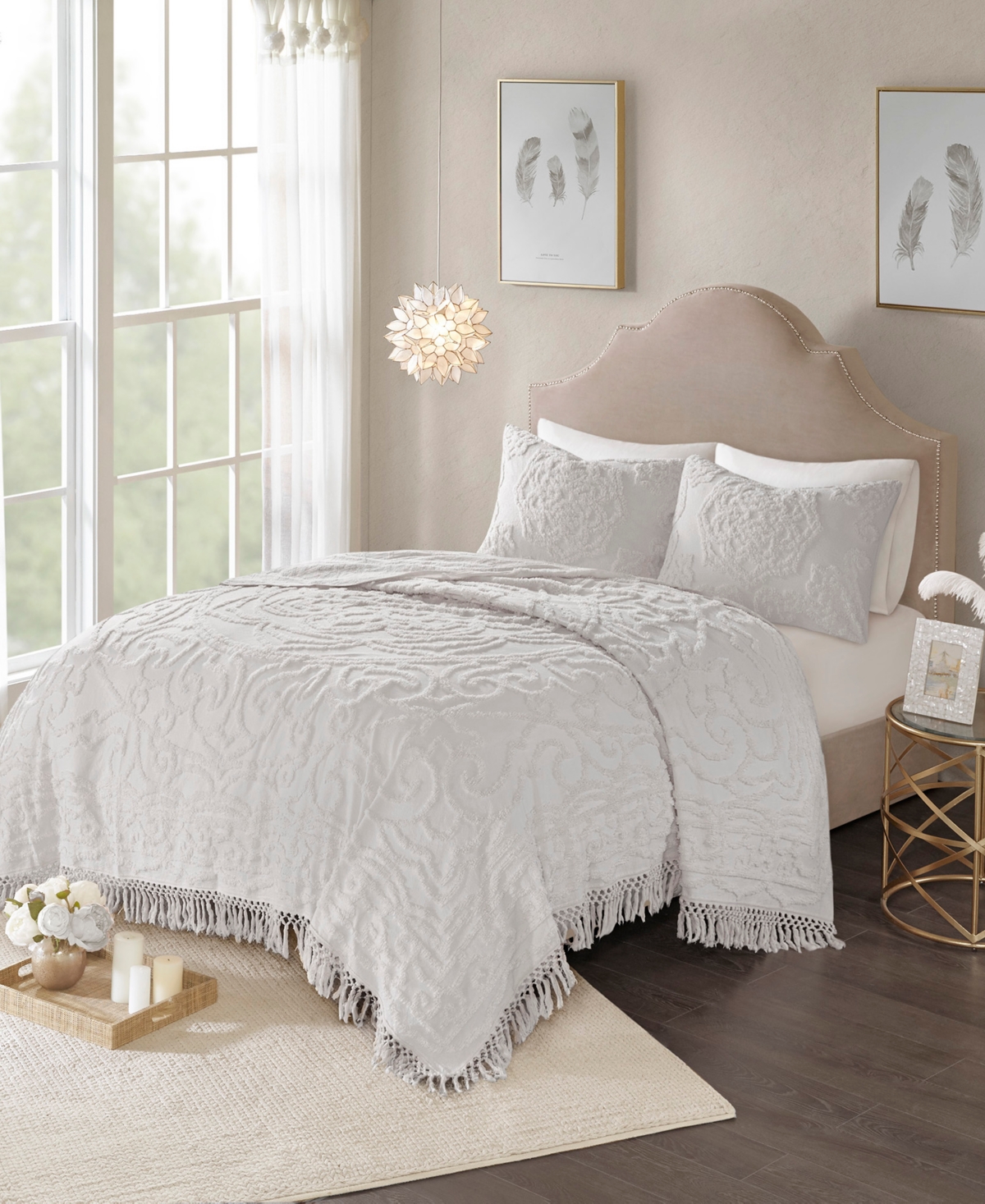 Bedskirt: I ordered a fun pom pom bedskirt from Amazon in beige (the image looks yellow– it's not). I was kind of playing off of the design of the wood bed where it has the connecting circles in a row.
Window Treatments: to go along with the beige pom pom bedskirt, I ordered sheer pom pom curtains for the inside part of the windows. (They're also beige.) No one but me will ever probably notice the pom pom bedskirt/ curtain/ bed connection but I don't care, it makes me happy.
Here are the sheer pom pom curtains:
I ordered white blackout
curtains (also Amazon!) for the outer most part of the windows.
(We have custom fitted blackout shades for the actual glass part. However there are tiiiiiny little openings between the shades and the window trim that let in an annoying amount of light.)
Master Bedroom Walls: In Search of Simplicity
To really add to the simplicity and peacefulness of our bedroom, I wanted the decor to be understated. I'm always on the lookout for the perfect art to hang above our bed. For now we have 3 circular mirrors that add a bit of a modern touch to the room. I love both the light reflection and gold trim of the mirrors– kind of makes the whole space feel like it's a younger couple living here, which balances out the antique-y feel of the bed and bedspread.
Mirrors above the bed: I got these mirrors from Pottery Barn years ago but they no longer make them.
Silhouette Art: When each of our two older kids turned 4, we had their silhouette photos taken by a local photographer. I plan on getting the twins' photos taken when they turn 4 as well!
En Suite Bathroom
To read about our master bathroom renovation, you can see the whole story here. And here. (Spoiler alert: there wasn't a door now going into that bathroom. We moved that physical door from another part of the room that now is a wall.)
There used to be an en suite bathroom coming out of a separate corner of the master bedroom. We closed off that door and just drywalled in the old doorway wall. The former en suite master bathroom is now part of the twins' nursery bathroom (at the time a guest room bathroom). Anyway, our master bathroom is still my favorite project we've done as far as loving the finished product!

Master Bedroom Ceiling Fan
On a slightly unrelated note, we got this ceiling fan made by Harbor Breeze 9 years ago and it's held up really well. I would highly recommend it for anyone looking for a white discrete ceiling fan.
Peaceful Farmhouse Bedroom
Overall, I love the simplicity feeling in our bedroom now. I'm not done with it yet but it's at a really good place for us to enjoy it with our young family, so I'm not considering it a priority to change. The beige and white feel calm against the pink background (which somehow feels like a neutral). Most importantly: the king sized bed is perfect for cuddles with 4 kiddos. 🙂